People hire security guards because they are very concerned about their own and their company's safety. Security can guard against a number of major security concerns like theft, criminal activity, and other serious threats.
If you are searching for the best security companies in Toronto in 2022, you have come to the right place.
The Top 10 Security Companies in Toronto have been selected for this list based on extensive research we conducted, which took into account a number of variables, including:
Management
Reviews
Licenses
Certifications
Top 11 Best Security Companies in Toronto
Before seeing about the best security companies in Toronto, let's know how much security companies charge.
How Much Security Companies Charge in Toronto?
Security agencies in Toronto typically charge $20 to $40 per hour, depending on a variety of circumstances.
You will have to pay according to the level of security you want to keep. Below are some of the variables that may affect prices.
The time of day
The hours between 10 pm and 6 am are more expensive for security providers.
Location
Companies impose higher prices in areas with greater traffic.
Service Type
Companies impose fees based on the sort of service provided; for example, thermal fever detection cameras are more expensive than CCTV cameras.
You must now be aware of the costs security companies in Toronto impose as well as the justifications behind them.
So tell us now which security firms in Toronto are the best. If you are searching for Security Guards and Cyber ​​Security Companies, then see the complete list.
1. Condor Security Inc.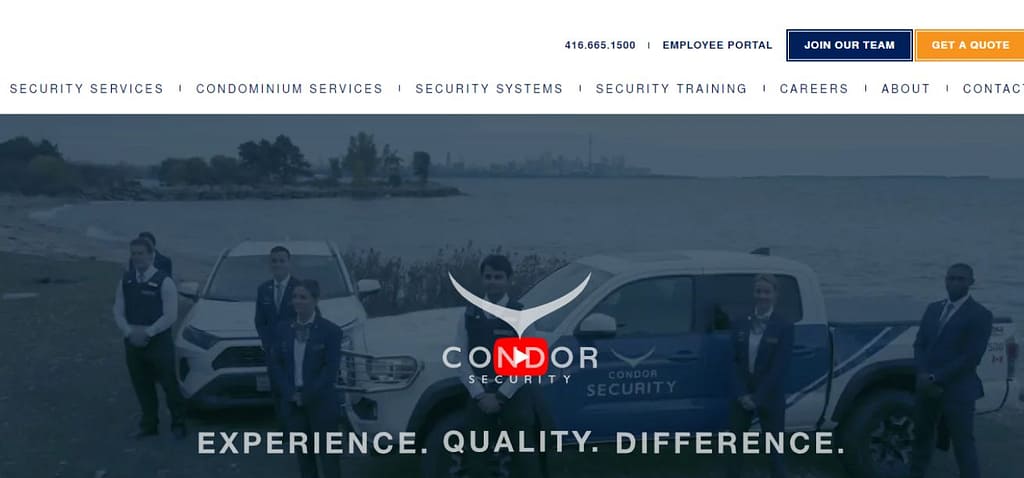 Condor Security Inc. is one of the best security companies situated in Toronto, they offer a wide range of security services including :
Security guards
Parking enforcement
Residential or business security systems
Special event secuirty
Mobile patrol service
Home protection
Security consulting
Threat and risk assessment
In addition to the aforementioned services, they also offer security training and condominium services, which puts them at the top of the list.
| | |
| --- | --- |
| Services | Security guards, Parking enforcement, Residential or business security systems, Special event security, Mobile patrol service, Home protection, Security consulting, Threat and risk assessment |
| Address | 4610 Dufferin St Unit 1B, North York, ON M3H 5S4, Canada |
| Contact details | +1 416-665-1500 |
| Operating Hours | Open 24 hours |
All of their guards are fully prepared and trained before they are assigned to a customer. It may be the finest option for you if you're looking for personalized protection and condo security.
From the very beginning to the very end of their security training program, everything is taught effectively. In addition, practical experience is given together with a few fundamental training principles.
They are certified to ISO 9001:2008, which attests to their high caliber security services offered throughout Toronto.
Customer reviews
"I just wanted to leave a review in appreciation of Nick who works as one of the concierge staff in the building (560 Front Street West). He's always friendly, professional, and punctual." : Peter Briggs
"Nick is 10/10. He greets and compliments residents every morning, handles package pick-up without hassle, and always made sure everyone was complying with covid safety protocols for the gym (when they were in effect). Plus, his positive attitude always makes Monday mornings a bit easier." : Ryan Sousa
2. Blackbird Security
Blackbird Security is one of the best Toronto-based security companies that offer various customize security services.
They cooperate with your current security policies. Depending on what you need, they can be as active or gentle as you.
Services
Elite Suit and Tie Security
Event Security
Front Desk Security
Executive Protection
Government and Municipal Security
Loss Prevention Security
Mobile Security
Patrol Security
Private Residential Security
Shopping Mall Security
Uniformed Security Guards
Address
405 The West Mall Unit 910 Room 27 & 28, Etobicoke, ON M9C 5J1, Canada
Contact details
+1 437-928-2575
Operating Hours
Open 24 hours
One of Blackbird Security's most valuable resources is its management staff. Their owners have a wealth of multi-disciplinary security experience and are longtime friends.
They are the professional security firm in Canada with the quickest growth. With only three employees at first, they have expanded to over 1,000 certified security specialists.
They are the ideal security firm to hire because they can offer mobile security services and real-time reports.
Customer reviews
"I like to work with blackbird security, Harjinder Jaideep and Faishal are wonderful and always working hard! I know how hard it can be sometimes but let me tell ya these people and staff is best amazing! ": Kajal Chander
"I saw one of the Blackbird guard helping out with a senior lady in shoppers the other day. Super friendly and polite. Well-mannered guard.": Alice Zhu
3. Paragon Security
I would like to recommend Paragon Security because it offers its services in various industries including Condominium, Retail, Commercial, Education, Health Care, Logistics, and Hospitality with its 48 years of experience.
| | |
| --- | --- |
| Services | Guards, security consulting, support services, cyber protection, RPAS services |
| Address | 1210 Sheppard Ave E #488, North York, ON M2K 1E3, Canada |
| Contact details | +1 416-498-4000 |
| Operating Hours | Mon – Fri (8:30 AM – 4:30 PM) |
Their goal is to keep your homes and businesses safe, comfortable, and convenient while also offering support and top-notch customer service. they provide customizable security services, making them the top security firm in Toronto.
They feature an antivirus detection system as well as eSentire Managed Detection and Response (MDR), which gives your company an extra degree of security.
They currently have around 4,000 security personnel working for them. As a result, Paragon has the capacity to offer services and capabilities that are unequaled.
Customer reviews
"I would like to start with a "Thank you" to Sathiya Gugathasan, a highly professional Recruiting Manager who goes above and beyond to make sure your hiring process is going smoothly.": Waad Chyad
"Paragon is dedicated to helping their guards succeed. They have also identified and resourced the challenge of being fully staffed which is unique in the security industry.": Roger Pugsley
4.  Safety First Security Services
At the moment, SFSS has over 70 full- and part-time personnel working for it, and it serves over 45 customers with security and parking enforcement solutions.
| | |
| --- | --- |
| Services | Corporate Security, Retail Security, Industrial Security, Construction Security, Event Security |
| Address | 55 Nugget Ave, Scarborough, ON M1S 3L1, Canada |
| Contact details | +1 416-906-4011 |
| Operating Hours | Mon – Fri (10 AM – 5 PM), Sat (9 AM – 5 PM) |
There are several reasons why I chose this security firm from this list, but one of them is that it has been functioning in accordance with the rules established by the Ontario Ministry of Community Safety and Correctional Services.
They have a management team made up of seasoned security experts who are in charge of overseeing the everyday operations of the company.
SFSS has a provincial security guard license that allows it to work at special events and in private homes, businesses, condominiums, industrial parks, construction sites, and parks.
A group of experts with diverse security backgrounds works for their company as employees. A high level of expertise and experience in customer service is shown in their management team.
Customer reviews
"Worth the price comparing to other places": Shabeer Nazar
"Best services in GTA.": PARAMJIT SINGH SAINI
5. GF1 Security
GF1 Security is one of the leading security companies in Toronto. They have 25 years of combined experience in all aspects of security.
Services

Site Security Auditing
Home Security
Construction Security
Truck Yard Security
Condominium Security
Airport Security
Industrial Site Security
Mall Security
Security Consulting
Transit & Traffic Security
Commercial Security
Loss & Prevention
Mobile Patrol
Government Security
Event Security including Banquet Halls
Address
1085 Bellamy Rd N #210, Scarborough, ON M1H 3C7, Canada
Contact details
+1 647-710-7760
Operating Hours
Mon – Fri (9 AM – 5 PM)
In addition to planning and consulting for security programs, they also provide on-site security guard services and training that has been approved by the ministry.
One of the main advantages of this security firm is that it offers detailed planning and instructions at every step to make sure everyone understands what to do.
Their innovative system, GUARD CENTER, was created especially for the security sector and delivers trustworthy responsibility to clients' investments. Additionally, they provide top-notch security guard training programs in Scarborough, Ontario.
Customer reviews
"Positive: Professionalism, Quality, Responsiveness, Value": Devan Prakash
"Brilliant service and support I highly recommend this institution": Roshani Patel
6. Protection Plus
If you need a wide range of security services then Protection Plus could be the best choice for you. Till now over 25,000 Canadian home and business owners have chosen the Protection Plus security.
| | |
| --- | --- |
| Services | Alarm-i video verification, security cameras, access control, intercom systems, alarm systems, locksmith services, automatic door openers, fire & life safety, high-security locks, door reinforcement, security window film, and security window bars |
| Address | 1540 Lodestar Rd #11, North York, ON M3J 3C1, Canada |
| Contact details | +1 416-444-4663 |
| Operating Hours | Mon – Fri (8 AM – 5 PM) |
PROTECTION PLUS Security Solutions is headquartered in Toronto, Ontario and It offers more than 25 years of experience offering clients expertly planned, installed, and maintained home and business security solutions.
Strong ties and collaborations with top names in the security sector, including Honeywell, Resideo, DSC, Qolsys, Alarm.com, Mul-T-Lock, Medeco, Openpath, and Madico window film
Now, you may control your system using your smartphone or the web's virtual keyboard. You may upgrade to see your property from a distance, get video and event alerts, control the temperature of your building while you're away, and more.
Customer reviews
"Protection Plus was a great company to deal with from start to finish. I requested a quote online to get bars on a couple of small windows we have on the side wall in our basement. Brian phoned me up within the day and it felt like I had known the guy for years! Great, honest man who seemed to like his job and knew the products very well. I appreciated his continuous updates regarding measurements, price quotes, and then when the work would be done. I think I went over my daytime minutes chatting with him LOL": Amanda Cummings
"Protection Plus is a great, reputable security company. Brian came and visited our home and provided a cost-effective solution within our budget. He made it work. Not to mention this was the only company that called us back while we were shopping for a provider. An installation was scheduled quickly and John our installer was professional, very knowledgeable, and respectful of our home. He ensured he trained us thoroughly prior to leaving. Solid company.": Richard Scali
7. Best Guard Security Inc.
Best Guard Security Inc. is a Canadian-based security company that offers physical security protection services to residential, commercial, construction, and industrial sites within Greater Toronto.
Services
Mobile Patrol
Alarm Response
Parking Enforcement
Address
1001 Finch Ave W #200, North York, ON M3J 2C7, Canada
Contact details
+1 416-749-2009
Operating Hours
Mon – Fri (9 AM – 5 PM)
Strong corporate clients and a long list of projects are among Best Guard Security Incorporated's assets. from some of the biggest real estate investment trusts, builders, firms, and developers to a range of private and public sector, secret clientele.
Best Guard Security Incorporated has offered its knowledgeable services as a uniformed security guard to:
The Region of Peel
The City of Burlington
The City of Pickering
The City of Brantford
The City of Cambridge
University of Toronto (Mississauga)
Toronto Transit Commission (TTC)
DEL Property Management
According to the requirements of the Private Security and Investigative Services Act created by the Ministry of Community Safety and Correctional Service, every security expert has undergone a background check.
For your convenience, supervisors are on duty around the clock, every day of the year, and they will carry out regulatory spot checks to make sure compliance.
Customer reviews
"Excellent service. Very polite staff. Very satisfied with the service": Dilpreet Sandhu
"The introduction and quotation steps went very well. I was able to secure 6 personnel with very short notice. The personnel was timely, courteous, and helpful.": Simply Swagg
8. Ultimate Security Services Inc.
Ultimate Security Services Inc. is one of the leading technology-enabled security companies in Toronto. They offer various types of security services to protect you from the outer world.
Services
Security Guards
Mobile Security
Neighborhood guard
Parking Enforcement
Operations Centre Dispatch
Security Technology
Address
7 Oak St, York, ON M9N 1R7, Canada
Contact details
+1 416-399-1550
Operating Hours
24 hours
The company was founded in 1997, and since then it has been providing security solutions and risk management for affluent neighborhoods, communities, and enterprises, among other things.
They decide to specialize in providing security services, and they put into practice a security plan that reduces risks while taking into account the client's individual security requirements and way of life.
Customer reviews
"Used Ultimate Security services for our backyard wedding last month. Highly recommend this amazing company. The guards we punctual and stayed the night to make sure all was safe.": Janette Camara
"Ultimate Security has been trusted by my community for 2+ years to provide patrol and protection services in our neighborhood. Ultimate has consistently provided high-end security services at all times. The professionalism and expertise exhibited by upper management resemble at every level from the supervisors to the guards. The guards and supervisors always display great attention to detail and offer exceptional customer service. We will never use any other security firm. Highly recommended.": Jordan Oliva
9. Securtac Protection Services Inc.
Securtac Protection Services Inc. is a leading security company across the greater Toronto area. The company was established in 2009. They are members of the Association of Condominium Managers of Ontario (ACMO).
Services
Security Guard Services
Live Monitoring & Surveillance Camera Installation
Loss Prevention
Mobile Patrol
Parking Enforcement
Security Risk Assessment
Address
1691 McCowan Rd #101, Scarborough, ON M1S 2Y3, Canada
Contact details
+1 416-479-0056
Operating Hours
Mon – Fri (9 AM – 5 PM)
They are a full-service security solutions provider from providing uniformed security guard services for a wide range of needs all the way to IP camera surveillance & installation, as well as access control solutions.
One of this company's main features is that it has a license and approval to conduct business from the Ontario Ministry of Solicitor General under the Private Security & Investigative Services (PSISA)
Customer reviews
"Professional installation of security cameras at our house. They only do commercial sites but based on our needs they understood our challenges and accommodated us.": Misbah Chaudhry
"Securtac is a professional Security and Protection Service that provides quality services to businesses looking for safe and reliable protective solutions to their properties, staff, and customers.": Alin M.
10. Skyview Security
Skyview Security is one of the best security companies in Toronto, It offers a wide range of security services including physical, mobile, and CCTV security.
Services
Concierge Personnel
Event Security
Mobile Security
Parking Enforcement
Bouncers
Retail Security
Fire Watch
Address
304, 40 Wynford Dr unit, North York, ON M3C 1J5, Canada
Contact details
+1 416-262-9075
Operating Hours
Mon – Fri (8 AM – 6 PM)
Every guard that works for them has an Ontario Security Guard license. Bar employees must also have a Smart Serve certification. Their parking enforcement officers are duly registered with the City of Toronto as M.L.E.O.s.
They are a bit more expensive security business because their service is premium and their rates are competitive. Additionally, they provide GPS real-time tracking.
Customer reviews
"We hired Skyview for our music festival and the service was amazing!! They were always available and willing to answer any questions and were an absolute pleasure to work with! We were able to book the week of our event and the security guards were professional and effective at their jobs. Thank you Skyview; we look forward to working with you again!": Julie Moffatt
"Hired 2 security guards for a party. The guards themselves were very professional and helpful, the prices reasonable, and the company was easy to contact and always available to speak with me. I would absolutely recommend Skyview and use them again.": Meera Rahim
Considerations for Choosing a Security Company
Choosing the greatest and most reliable security company is quite important, so you should be aware of what qualities reputable security companies have.
1) Services
If you want a customized security solution, seek that so that you won't subsequently be confused about their offering.
2) Superior
You ought to be aware of whether or not their security employees have received proper training. More security equates to higher quality.
3) Reputation
Don't just rely on the company's experience; instead, read the customer reviews to learn more about their reliability.
4) Reliability
Another crucial element is to keep an eye out for security firms. To determine their dependability, contact some of their prior clientele.
What Qualities Characterize a Good Security Guard?
You should be aware of the characteristics that make a good security guard before employing one. Let's look at some of them.
Use the following matrices to classify any security guard.
1) Physical strength and endurance
A security guard may need to flee in some circumstances, thus they should have stamina. They should also have power in case of any resistance situation.
2) A leader and quick thinker
There may be many circumstances where making quick decisions is essential, such as when there are invaders. And the ability to lead is crucial for managing the security guards.
3) Integrity and sincerity
The security guards must be honest and trustworthy when on duty within the house. If the guard is dishonest, there could be a lot of privacy concerns.
4) Emotional Balance
There are a lot of situations when there might be violence, therefore for security guards, it's crucial to remain calm so they can protect both themselves and their clients.
You can pick any of the security firms listed above if you believe that you or your company requires security.
Essential reads:
Top 10 Best Property Management Companies in Toronto 
Top 51+ IT Service & Product Companies in Toronto
I've included a list of the Top 10 Best Security Companies in Toronto, Ontario, but before selecting one of them, make sure to research their costs and level of customer care.
We sincerely hope that after reading this blog article, you were able to quickly find the answer to your query.
FAQ
Q: Which is the biggest security company in Canada
Ans: Paragon is the largest security company in Canada.
Q: What services do security companies offer?
Ans: Protecting your home or property from criminals, gangs, other assailants, and other dangers is the responsibility of security services.
Q: What kinds of security services are there?
Ans: 1) Event Security
2) Personal bodyguard services
3) Armed security
4) Unarmed security
5) Corporate security
6) Retail Security
7) Fire Watch
Q: How do security firms vet the security personnel they hire?
Ans: Security companies do the following screening for their security professionals
1) Applicant application review
2) Drug screening (where permitted by law)
3) Pre-qualification review
4) Proof of legal right to work
5) 5-Year employment background check
6) Client involvement and recommendation
7) Military records check
8) Review of company standards and account job specifications.
9) Use of "person specifications"
10) Telephone pre-screens.
This blog post is written by business industry experts & published by the Digital5k editorial team to give the best industry knowledge. This blog post was well researched to ensure the right information.